Every day, from Monday to Friday 12:15 to 13:15, come enjoy an hour of soft and sensitive yoga. Come relax and recharge your batteries for the afternoon !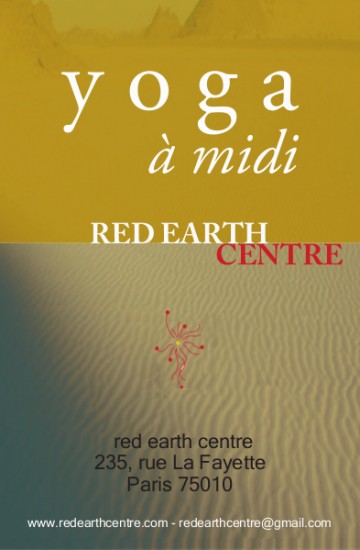 Monday: Soft Vinyasa with Christina
Tuesday: Dynamic Yoga with Sergio
Wednesday: Dynamic Yoga with Miranda
Thursday: Hatha Yoga with Dinusha
Friday: Dynamic Yoga with Louisa
Prices:
1 class 10 €
10 classes card, valid 3 months 80 €
One month unlimited 70 € (best option if you'd like to come several times a week!)
information: redearthcentre@gmail.com
THE LOST ART OF MEDITATION WORKSHOP IN PARIS
DECEMBER 1-4 2017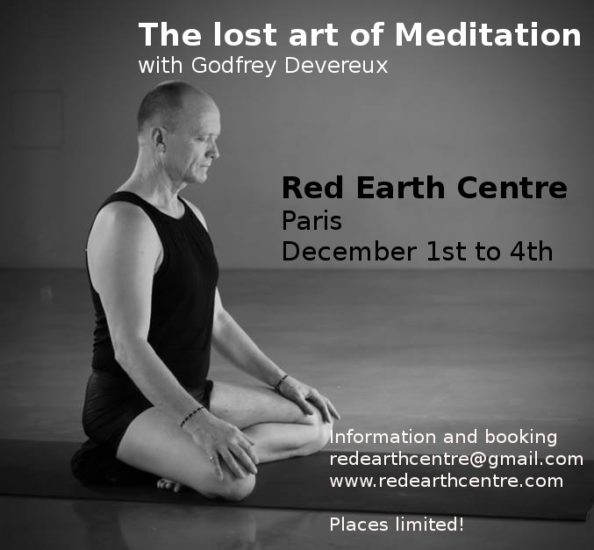 Friday, December 1st free talk: WHAT IS MEDITATION, REALLY?
This talk will explore the differences between relaxation, autohypnosis, trance and meditation. This exploration will include not only the different ways they are accessed but the different effects that they have.
Price: Free (RSVP)
Saturday, December 2nd. SOMATIC MEDITATION 10.30-18.30
Based directly on the sensations that it is generating Somatic Meditation uses the intelligence of the body to access the nourishing presence of consciousness. By-passing entirely the evasive instability of mind Somatic Meditation requires no regulation, effort, intention nor control of any kind. It directly accesses your ability to feel rather than your ability to think. This makes Somatic Meditation both a forgiving and potent practice within which the three frequencies of human intelligence, cognitive, somatic and spiritual, effortlessly integrate.
Price: 90 €
Saturday, December 3rd. TANTRIC MEDITATION 10.30-18.30
Tantric Meditation is a safe and powerful way to access the pleasure nature of consciousness to calm and clarify the mind. Both alone and with a partner you will be given precise but simple guidance in using the sensations being generated by your body to access its pleasure nature as a condensation of consciousness. There will be neither nakedness nor sexual activity during this workshop.
Price: 90 €
Monday, December 4th. ADVANCED TANTRIC MEDITATION 9.00-12.30
Sitting clothed with a partner you will be guided in using the power of open gazing and subtle touch to dissolve habituated inhibitions, anxieties and barriers.
These sessions use the intensification of pleasure provided by the open presence of another not only to nourish and heal but to recalibrate your assumptions about individuality and intimacy. There will be neither nakedness nor sexual activity during this workshop.
Price: 40 € (only possible to take this session if you have previously practised Tantric Meditation with Godfrey)
DISCOUNTS:
All 4 days: 200 €
Only Saturday and Sunday 170 €
Only Sunday and Monday: 120 €
__________________________________________
Workshops with Godfrey Devereux in Paris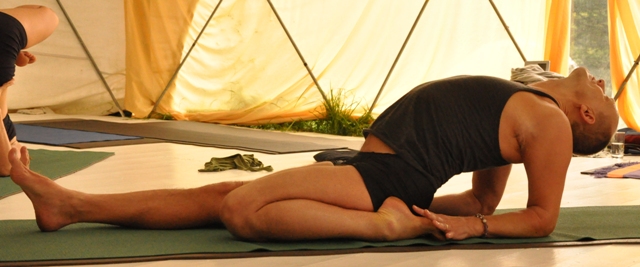 Workshops with Godfrey Devereux in Paris at the Red Earth Centre
Friday, April 21st – 18:30 to 21:00
Ujjayi breathing as a seated practice
This short workshop will expose the myths and clarify the muscular and energetic dynamics of Ujjayi breathing.
Price: 30 €
Saturday, April 22nd – 10:00 to 18:00 (lunch break included)
Standing postures
Standing poses provide deep structural integration for the whole body, whilst being simultaneously energising and grounding. Nevertheless, their structural complexities demand intelligent preparation for the whole body, if local stresses and strains are to be avoided. This workshop, in two parts, will present a comprehensive vinyasakrama to prepare the whole body, and mind, for the challenge of asymmetrical standing poses, so that their power can be accessed. Open to anyone, regardless of experience.
Price: 100 €
Sunday, April 23rd – 10:00 to 18:00 (lunch break included)
Backbends
Backbends present the deepest challenge to the vulnerabilities of the spine. To avoid weakening or injuring the lower back and neck, the whole body, from feet and hands, must engage to support the spine. This is impossible to learn within the backbends themselves, and requires a whole body vinyasakrama of muscular preparation. This workshop, in two parts, will present a vinyasakrama to prepare the whole body, and mind, for the challenge of backbends, so that they can easily be enjoyed by anyone. Open to anyone, regardless of experience.
Price: 100 €
Monday, April 24th – 9:00 to 12:30
Dynamic Yoga full practice
Vinyasaxikitsa, the core praxis of Dynamic Yoga, awakens, energises and integrates the whole body. A progressive flow of namaskar, standing and balancing poses, backbends, extensions, rotations, forward bends and inversions provides a balanced template for varying your own practice according to your changing needs and capabilities.
Price: 40 €
Price only weekend: 190 €
Price all 4 days: 250 €
Early bird all 4 days: 230 € (reserved before March 15th!)
Registration open, places very limited and going fast !
For more information or for booking
Call: +33 (0)7 82 92 45 97
Write to: redearthcentre@gmail.com
The Red Earth Centre will close its doors during August.
Classes will return from September 5th on. Check the online schedule to be up to date with all the news !
Wishing you a happy Summer, we find each other in September.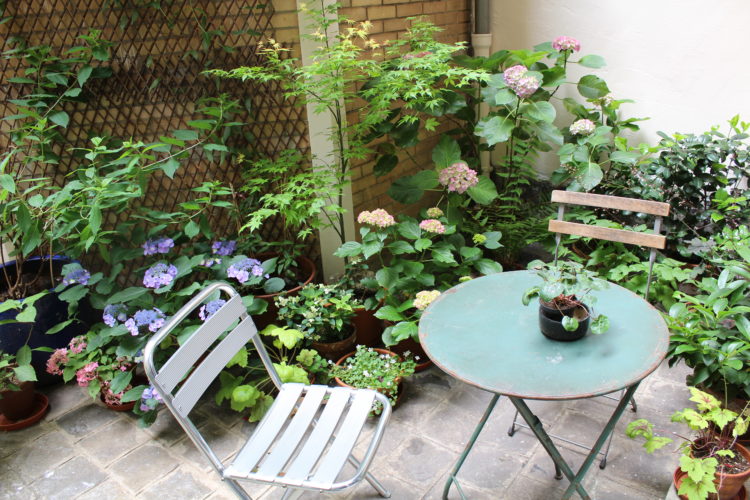 Urban Retreat with Louisa Raszyk, Red Earth Centre, July 9th and 10th 2016 (Bilingue)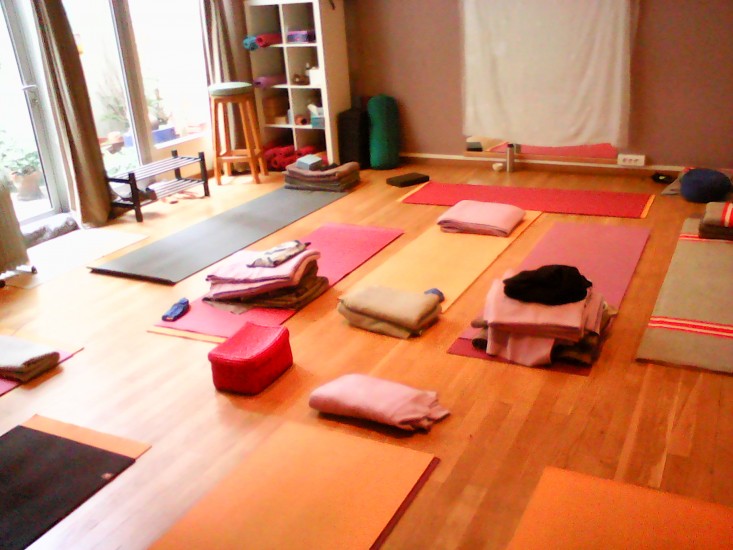 Louisa is delighted to be back in Paris this summer and to be able to offer a two-day yoga immersion at the beautiful and intimate Red Earth Centre, for all who wish to experience a yoga retreat without having to leave the city.
We will explore the Dynamic Yoga Method, a method based on self-inquiry which uses simple, accessible movements and shapes to invite the mind to soften and merge with a deeper consciousness through awareness of the body. Louisa Raszyk is a Senior Dynamic Yoga teacher, and founder of Red Earth Centre Paris (2003). She has been practicing yoga since 1989.
Louisa will teach morning and afternoon both days, we will lunch together (included) and return home at night to our own little beds for sleeping!
Tea and fruit will also be available throughout the weekend.
Places are limited. The retreat is open to all levels of practitioner.
Saturday 9th July 9.30am – 1pm, and 3pm – 5.30pm
Sunday 10th July 9.30am – 1pm, and 3pm – 5.30pm
Cost – €160, includes 12 hours' instruction, lunch, tea water and snacks.
Information and registration : redearthcentre@yahoo.com
HASYA YOGA, LAUGHTER YOGA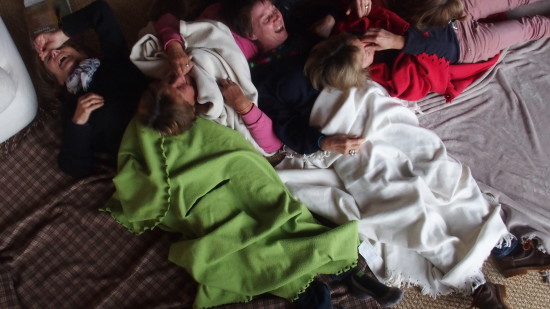 Come and join us for a free discovery session on 5 and 12 July at 6:00pm!
Originally a medical yoga created by Indian Doctor Madan Kataria in 1995, hasya yoga or laughter yoga is now spreading all over the world. Hospitals, but also schools, universities and companies use it to reduce stress and increase performance. We too may use it for the same reasons, or just to feel better and live a more joyous life.
The concept of Laughter Yoga, a combination of deep breathing exercises from yoga and laughter exercises, is based on a scientific fact that the body cannot differentiate between fake and real laughter. One gets the same physiological and psychological benefits.
WHAT ARE THE BENEFITS?
Laughter yoga helps release adrenaline and get rid of stress, produce dopamine which induces ease and pleasure, bring more oxygen to blood and tissues, get better quality sleep thanks to higher level of serotonin, breathe better, get stronger antibody cells and lower blood pressure. It increases positive thoughts and, when facing difficult situations, helps to take distances in order to decide with clear ideas and a positive energy. In any group, it helps neutralize conflicts and build harmony.
I discovered Laughter Yoga in India in 2009, when staying at a friend's whose aunt would practice it everyday. Today
I am pleased to be able to share at Red Earth Centre this experience of a fun and powerful yoga that brings so much to the body and soul.
On Tuesdays 5 and 12 July, you can experience Laughter Yoga at Red Earth Centre for the first time and also register for the regular class which will take place on Tuesdays, 6:00-7:15pm from next September.
Registration fee: 15€ /session ; 5 sessions card 65€ (to be used within 3 months) ; 10 sessions card 100€ ( to be used within 5 months) ; 20 sessions card 180 € (to be used within 1 year). 15% discount for students, unemployed and RSA beneficiaries.
More information at mylene.koenig@gmail.com
Tantra Yoga Workshop with Godfrey Devereux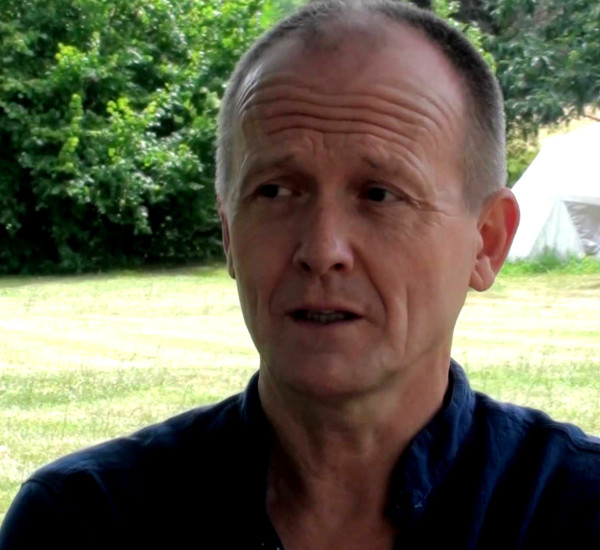 We are very happy to announce that Godfrey will be back to the Red Earth Centre in Paris next Spring proposing a wonderful workshop. Places are limited and there is a lot of interest already shown, so please reserve soon to avoid any disappointment.
Friday, May 20th, 19.30pm
Talk: "The tantric roots of yoga" (Entrance free – please write or call to reserve, places limited)
The human body, as an extension of nature is an expression of the feminine principle. Yoga posture praxis cannot work if it is approached, even if only unconsciously, as a patriarchal, ascetic practice of transcendence. This talk will explore the tantric roots of yoga posture praxis and the deep fertility of the pleasures, obvious and subtle that it can provide.
Saturday, May 21st, 10am to 1.30pm – 3pm to 6.30pm
Making love, the art of intimacy
Making love is not a skill, but a frame of mind. Becoming intimate with your own presence as love is the only way to become able to be genuinely intimate in love with others. This workshop will explore the experiences, attitudes, and tools that can make genuine love a real possibility, while remaining clothed. Using yoga posture praxis and meditation godfrey will use refined and focussed instruction to invite you to experience the deep, impersonal love at the heart of human consciousness. Open to anyone interested in love and intimacy regardless of experience in yoga. There will be no sexual activity during this workshop, as we will be exploring the love upon which satisfying sexual activity depends.
Sunday, May 22nd, 10am to 1.30pm – 3pm to 6.30pm
The art of being pleasure
Pleasure is the natural expression of conscious awareness, and the subtle heart of the human body. To become free from the destructive pursuit of external and intense pleasures and the dependencies they generate, we need some alternative. Dynamic Tantra uses movement, stillness, intimate instruction and contact to access and release core sexual energy so that the pleasure nature of the body reveals itself. Then, perhaps, your experience of simply being alive can provide a satisfaction more lasting and nourishing than that provided by externally driven experiences, and you can find a genuine ease and freedom in your sexual nature. There will be no sexual activity during this workshop, as we will be exploring the energies upon which satisfying sexual activity depends.
Cost:
Friday talk: free
Saturday session: 100€
Sunday session: 100€
Both days 190€ 
Early bird (until April 15th) both sessions 180€
Registration open, places limited: contact
Empty hand massage
with Mac McEvoy
Sunday February 28th – 10am to 6pm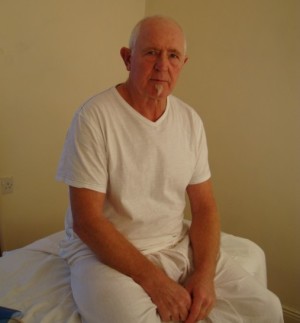 Would you like to:
Learn how to communicate more deeply with your partner or friends?
Learn a skill that complements your yoga practice?
Just have fun for a day?
Empty Hand Massage Training Sunday 28th February Red Earth Centre
Most massage seeks to do or change something. This is different. It is about simply being with another person, communicating through meditative touch. 'Empty Hand' means touching with no intention. In this course we will explore how to deepen that touch, to begin to explore the mystery of another person's feeling. Feeling not separate, feeling connected, feeling whole.
Mutual trust and respect are fundamental to being able to give and receive an impersonally loving touch. This course is not sexual or in any way intrusive or exposing. The emphasis is on gentleness and warmth, celebrating openness but cultivating sensitivity.
On this one day course you will learn how to give a simple, but complete and satisfying, whole body massage. Everyone will receive a certificate and a detailed set of notes.
About Mac
My interest in massage has developed over the last twenty years together with that in yoga and meditation. They seem to fit naturally together. I have studied a wide variety of forms, from Swedish massage through Thai and Ayervedic techniques.
My main influence recently has been Ma Sagarpriya DeLong with whom I have studied intensively for several years. Ma Sagarpriya is a world-renowned master of intuitive massage and the author of several books on the subject. She confirmed for me the notion that massage works best when not attempting to do or fix anything but rather as a profound form of joint meditation through touch, a celebration of being.
Tarif: 80 € (before February 1st)/ 90€ (after February 1st)
Registration open, places limited
Contact: redearthcentre@gmail.com
07 82 92 45 97
Workshops "Back to Basics"
Saturday, December 19th – 15;00 to 18:00
Xandranamaskar (moon salutation)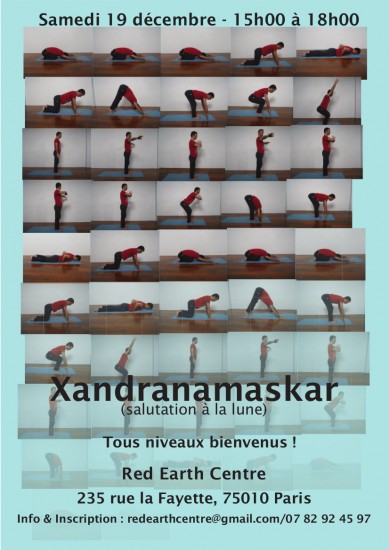 Just before the holidays come and discover this soft and dynamic sequence.
Xandramaskar helps not only to warm up but specially to awaken and discover the intelligence of the body.
Xandranamaskar is the base sequence of the Dynamic Yoga Training Method. Many variations can be developed through this sequence, going from the obvious to the more subtle, from the easier to the more difficult in a harmonic and gradual progression (vinyasakrama).
In this workshop, led by Sergio, Xandranamaskar will be presented, explored and discussed in a way that eventually it can become a base for a more sensitive self practice.
Open to all levels, specially interesting for those who just begun with the Dynamic Yoga classes or for those who wish to incorporate themselves to the regular Dynamic Yoga classes. Also fruitful to more experienced practicionners wishing to uncover the delights of a more subtle and sensitive practice!
Tarif: 30 € (reserved)/ 35 € (drop in)
Workshop in French (English possible)
Registration open:
redearthcentre@gmail.com
07 82 92 45 97