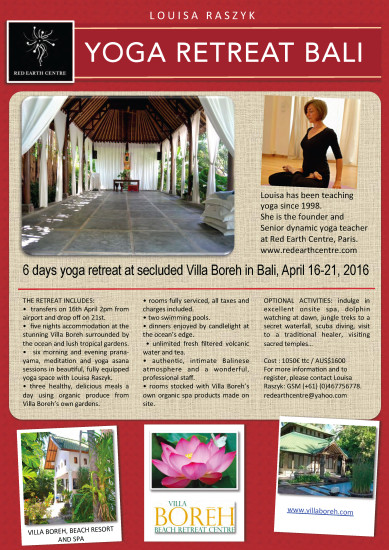 Dear students and friends,
I hope this email/post finds you well and enjoying the cosy Parisian winter. I am still in Australia and will be back in Paris this June.
AtI have just visited the magical island of Bali, researching remote, authentic yoga retreat centres to find the perfect place to offer retreats to my Australian and European students (well, it's not quite halfway, but it's the best option I could think of!). I am happy to say that I have found the perfect retreat centre with a wonderful, professional staff, in the secluded north of the island, far from any touristed areas. Tejakula and Singaraja are some of the oldest spiritual centres on the island, and the beautiful deep Balinese spiritual energy is alive and well here. I will be holding the retreat from 16th -21st April, 2016, and if you wish to arrive earlier or stay longer, this can be arranged.
Villa Boreh is a very beautiful and special place that was built 15 years ago specifically to hold yoga retreats. The perfectly kept Balinese bungalow accomodations are woven seamlessly though leafy tropical gardens and small temple spaces, swimming pools and rest areas, cool quiet spa rooms, open air bathrooms nestled in tropical gardens, and all of this right on the ocean's edge. It really is an exceptional place that has been constructed according to geobiology under the instruction of local priest and shamans using mostly Balinese architecture and materials. It is intimate and traditional, but still quietly and unobtrusively offers all the conveniences of a quality resort.
I propose a six day, five night retreat, offering six meditation, pranayama and asana classes in the mornings, and six late afternoon meditation and restorative, nourishing classes. You will have afternoon time free to simply relax, doze, read a book, do more yoga! Or explore, making the most of optional activities available: onsite spa treatments, visits to waterfalls, temples, the local healer, cultural tours with knowledgable and bilingual guides, scuba diving, sunrise dolphin excursion, etc. I have purposefully chosen a venue that is very remote – there are no distractions, no nearby town and tourist attractions, so that the particiapnts are invited to enjoy the experience of a true yoga retreat.
The first class will be the evening of your arrival, the last will be the morning of your departure. If you don't know about me, please see the website of my Parisian studio, the Red Earth Centre, which I founded in 2003 www.redearthcentre.com. I am a Senior Dynamic Yoga teacher and shiatsu practitioner with 20 years' teaching experience. The yoga I teach is based on self-inquiry and uses safe, accessible movements and shapes to allow the mind to soften and merge with a deeper consciousness. In doing so, we naturally become more intimate with life, more open to the present moment, and more present and open to those around us. The classes are appropriate for all people who do not have major injuries, illnesses or disabilities, in which case personal instruction is recommended.
The retreat will cost €1050 (AUS$1600) and this includes:
transfers
12 yoga, meditation and postural classes (30 hours)
all meals – delicious, healthy and prepared using Villa Boreh's own organic garden produce
beautiful shared accommodation (single accommodation available at an extra cost according to availability)
use of the entire grounds including three pools
fully serviced rooms with organic onsite spa products provided
access to the custom built yoga shala and equipment at any time
use of sea kayaks and snorkelling equipment
There are also optional activities which you may choose – onsite spa treatments, tours taking you to waterfalls, temples, the local healer, cultural tours with knowledgable and bilingual guides, scuba diving, sunrise dolphin excursion, etc.
I would love to see you there and to spend time doing yoga in this beautiful place.
Email me redearthcentre@yahoo.com if you are interested and would like to register.
With love
Louisa