"Xandranamaskar" (moon salutation) December 19th, 15:00 to 18:00
Workshops "Back to Basics"
Saturday, December 19th – 15;00 to 18:00
Xandranamaskar (moon salutation)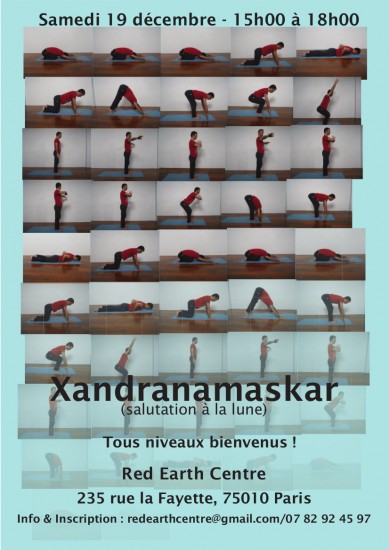 Just before the holidays come and discover this soft and dynamic sequence.
Xandramaskar helps not only to warm up but specially to awaken and discover the intelligence of the body.
Xandranamaskar is the base sequence of the Dynamic Yoga Training Method. Many variations can be developed through this sequence, going from the obvious to the more subtle, from the easier to the more difficult in a harmonic and gradual progression (vinyasakrama).
In this workshop, led by Sergio, Xandranamaskar will be presented, explored and discussed in a way that eventually it can become a base for a more sensitive self practice.
Open to all levels, specially interesting for those who just begun with the Dynamic Yoga classes or for those who wish to incorporate themselves to the regular Dynamic Yoga classes. Also fruitful to more experienced practicionners wishing to uncover the delights of a more subtle and sensitive practice!
Tarif: 30 € (reserved)/ 35 € (drop in)
Workshop in French (English possible)
Registration open:
redearthcentre@gmail.com
07 82 92 45 97