Workshop "Empty hand massage" February 28th – 10am to 6pm
Empty hand massage
with Mac McEvoy
Sunday February 28th – 10am to 6pm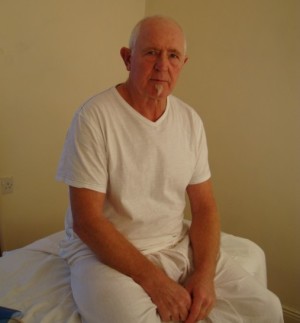 Would you like to:
Learn how to communicate more deeply with your partner or friends?
Learn a skill that complements your yoga practice?
Just have fun for a day?
Empty Hand Massage Training Sunday 28th February Red Earth Centre
Most massage seeks to do or change something. This is different. It is about simply being with another person, communicating through meditative touch. 'Empty Hand' means touching with no intention. In this course we will explore how to deepen that touch, to begin to explore the mystery of another person's feeling. Feeling not separate, feeling connected, feeling whole.
Mutual trust and respect are fundamental to being able to give and receive an impersonally loving touch. This course is not sexual or in any way intrusive or exposing. The emphasis is on gentleness and warmth, celebrating openness but cultivating sensitivity.
On this one day course you will learn how to give a simple, but complete and satisfying, whole body massage. Everyone will receive a certificate and a detailed set of notes.
About Mac
My interest in massage has developed over the last twenty years together with that in yoga and meditation. They seem to fit naturally together. I have studied a wide variety of forms, from Swedish massage through Thai and Ayervedic techniques.
My main influence recently has been Ma Sagarpriya DeLong with whom I have studied intensively for several years. Ma Sagarpriya is a world-renowned master of intuitive massage and the author of several books on the subject. She confirmed for me the notion that massage works best when not attempting to do or fix anything but rather as a profound form of joint meditation through touch, a celebration of being.
Tarif: 80 € (before February 1st)/ 90€ (after February 1st)
Registration open, places limited
Contact: redearthcentre@gmail.com
07 82 92 45 97