Shiatsu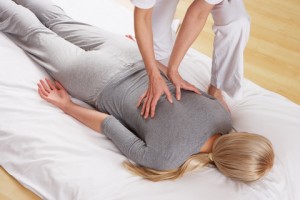 WHAT IS SHIATSU AND HOW DOES IT WORK ?
Shiatsu is an ancient Japanese healing art, which uses the power of touch and pressure to provide physical and emotional healing. It is based on the
Traditional Chinese Medicine ('TCM') system.
According to TCM, the lifeforce ('ki') runs through the body like a system of rivers and canals, ('meridians'); in some places the ki may block or become stagnant and weak. These interruptions to the ki flow are experienced in the bodymind, to varying degrees, as emotional or physical discomfort or disease.
The shiatsu practitioner releases these blockages, so that the ki may flow more smoothly and the bodymind returns to its natural, healthy state.
WHY SHIATSU ? FOR WHOM ?
Shiatsu is an excellent preventative treatment, to accompany you through the changing seasons and normal health fluctuations. It is also a reknowned alternative treatment for its effective accompaniment during challenging times in one's life: birth, death, grief, physical and/or emotional shock, antenatal, surgery and serious or chronic dis-ease (migraines, alopecia, menstrual disorders, etc.). When administered by a trained and experienced practitioner, shiatsu can safely be used in all life situations, and can safely accompany any medical treatment.
MY EXPERIENCE
Trained in Japan from 1991 – 1994 with Ryokyu Endo (Tao Shiatsu) and later training in diagnosis in Traditional Chinese Medecine, Louisa has been working as a professional shiatsu therapist since 1994.  She has had extensive experience with a wide variety of clients, including accompanying patients through chemotherapy treatments, end -of-life accompaniment, pre and post natal, pre and post surgery, and serious illness.
AN INDIVIDUAL TREATMENT
A shiatsu treatment takes place on a futon (thin Japanese mattress placed on the floor), and takes about an hour. The patient wears loose, comfortable clothing, preferably of natural fibres. It is best not to eat a large meal nor drink caffeine or alcohol before a shiatsu treatment.
TESTIMONIAL
"I have been visiting the Red Earth Center since its opening. Louisa is an extremely serious professional and one of the very few people whose opinion I trust, for guidance in my health and wellbeing. I value this immensely.   Apart from that I am always impressed to see how she has the ability to adapt the 'depth' of her shiatsu sessions according to one's needs." Tatiana, Paris/Athens
Sessions at Red Earth Centre 235 rue La Fayette Paris 10, or Verrières Le Buisson.
COST : 85 /  initial session (one hour 15 mins) ; 75 / ongoing sessions (One hour)
INFO / RES. :  Louisa Raszyk  / 06 10 89 76 04 / redearthcentre@yahoo.com