Rental (tarifs/equipment)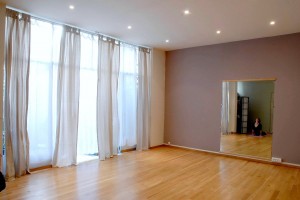 The Red Earth Centre is available for rental outside of class and consultation times.
Description :
The Red Earth centre is a small, treasured studio with a unique profile in Paris.
The space is beautiful and light,  looking out onto a small garden in a quiet courtyard. Designed according to Feng Shui principals, (Vanessa Boren of La Maison Feng Shui) using organic paints and non toxic products, the studio is perfectly suited to deep-well being work.
It is a 38msq studio with a small changeroom, and is fully equipped for 15 yoga students with Manduka mats, belts, blocks, eye cushions, support blankets, relaxation blankets, and bolsters. There are also 16 zafu, 7 folding wooden chairs, one double shiatsu futon, stereo with MP3 connection, light dimmers, and an essential oil diffuser. We can also provide a  large whiteboard, and tea facility if required for your workshops.
The studio and equipment are cleaned regularly.
Publicity :
If you wish, your activity will be posted on the centre's site, and Facebook and Twitter pages.
Tarifs :
Regular classes:
18€/hour Monday to Friday before 5:30 pm.
25€/hour Monday to Friday after 5:30 pm.
Workshops on a weekend:
35€/hour
There is a 10% discount if you use the studio for more than four hours at a time.
If you wish to rent the studio for a full weekend workshop, contact us for a "weekend tariff"
Contact :
09 50 31 57 25
07 82 92 45 97